Trade Show Exhibitors – Your key to extra profits
Trade Show Secrets Revealed: Finally, a Trade Show Insider divulges exactly how to make every trade show you attend a profitable winner (even if you are just starting out)…

What you must know to guarantee your trade show
marketing investment will pay off 
Discover a clear, step-by-step explanation of everything you need to do
in order to succeed at your next trade show….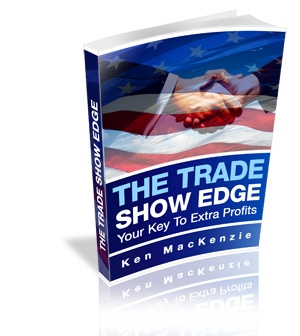 Have any of your previous trade shows failed to deliver the returns you expected ?
Are you worried that you're not doing all you can to make your next trade show a raging success?
Is your next trade show make-or-break for you?
Do you have an iron-clad; pre trade show marketing plan to attract the right customers?
Do you know how to stand out from your rivals in your hyper-competitive marketplace ?
As you read on, you'll learn there is a formula for mounting a very successful and profitable trade show – And Here it is ….

The first thing to note is that costs are climbing and competition increasing, so it's very important to squeeze as much juice from your trade show participation as possible !
In any trade show there are winners and there are losers.
What makes the difference?
A pre trade show marketing plan !

It's essential that you understand that for productive results as a trade show exhibitor you….
Have a pre trade show marketing plan
Understand what works,
What doesn't, and why…..
Pre trade show marketing is your Key to Extra Profits!
Your pre trade show marketing challenge is finding innovative ways to distinguish your business from your competition.
In short – your pre trade show marketing plan should be looking to gain a competitive edge !
This fully detailed downloadable ebook reveals how you can obtain a greater return on your investment from a well prepared trade show marketing plan!
In today's hyper-competitive market you must stand out and attract the right customers
You know that standing out in the crowd – and attracting the right customers – has never been tougher than in today's hyper-competitive exhibiting market.
That's why it's so important to know what the trade show medium is and how to use it correctly.

A pre trade show marketing plan has critical elements such as….
Having meaningful and measurable objectives
How to target your particular market
What you need to budget for
Your planning timeline
How to select space and
What kind of exhibit you should have
These are all imperative if you are to have a successful show.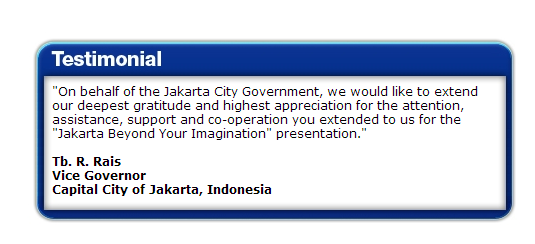 After all, I'm sure you don't want to miscalculate your potential trade show audience or design a booth that's not open and inviting.
Of course, having ineffective graphics that do not get your messages across; failing to measure your results and failing to follow-up leads, are just a few of a host of other exhibit killers!
The Trade Show Edge helps you with your pre trade show marketing so that you don't make common mistakes that are constantly being made by trade show exhibitors."
The Trade Show Edge quickly uncovers the mistakes now being made by many trade show exhibitors.
You'll discover what needs to be done to give you a huge advantage over your competition, making it easier to attract new clients, thereby having additional sales and extra profits.

Here are the two biggest mistakes of all….
Not undertaking advanced pre trade show marketing preparation and having untrained booth staff !
In fact, it's a waste of time and money participating if you make either or both of these two errors.

You need to ask yourself….
What's got to be in place with my pre trade show marketing plan to ensure I get the results I expect?
Can I do what's required?
Can it be measured?
Avoid common trade show mistakes!
With enormous amounts of money and time being invested in setting up a trade show booth, not to mention the cost of sending employees to the event, you need to discover how essential it is to increase your results by avoiding common trade show mistakes!
This book covers strategic principles for exhibitors to utilize before, during and after a trade show to maximize the value of their pre trade show marketing plan….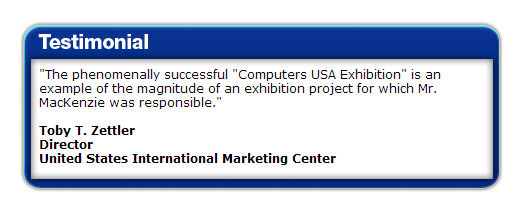 Why you should choose The Trade Show Edge….
Because it will show you how to obtain the best ROI on your trade show participation.
The book explains why pre trade show marketing is critical in alerting potential customers to your presence, your purpose and your business and why the effectiveness of your booth staff can make or break your success at a trade show.
It provides you with a Pre Trade Show Marketing Plan that works and, one that gives you productive and measurable results.
Ensures that you don't make common mistakes that are constantly being made by trade show exhibitors.
Plus you'll receive a free bonus book on sales techniques.
And, finally provides you with a 100% no-risk-to-you money back guarantee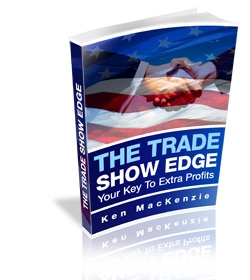 Inside "The Trade Show Edge" you'll find….
What's the most important starting point for any trade show? (see page 7)
What you should do before committing your company to a trade show (see page 8)
The activities that contribute to a trade show's success (revealed on page 9)
How to spell out and plan your trade show objectives (see page 10)
How you should evaluate the trade show market and plan an exhibit program (see page 16)
Where to find trade shows (see page 19)
How to establish a budget and what to cover (Includes Budgeting Worksheet) (see page 21)
A Trade Show Planning Guideline to maximise your trade show results (see page 30)
Selecting Space – the factors and guidelines you must consider (see page 33)
How to calculate your potential show audience (see page 35)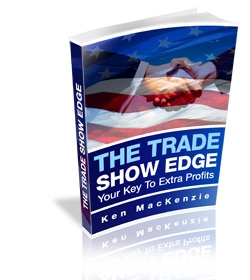 In addition, the ebook also covers….
How to design and build an open, inviting booth (see page 41)
The latest exhibit design and industry trends (see page 50)
How to create crowd-stopping graphics and other exhibit tips (see page 53)
Shipping your exhibit tips, drayage & how to avoid aggravation (see page 61)
Your Prospective Buyer – know what your visitors want! (see page 70)
How to qualify prospects. Included is a sample Qualification Form (see page 75)
Pre-show, At-show and Post-Show Marketing (Critical information starting on page 80)
How to obtain publicity in Business-to-Business Press, including how to write press releases/prepare Press Kits (see page 92)
Giveaways – make sure they have a connection to your product (see page 106)
Trade show literature tips (see page 109)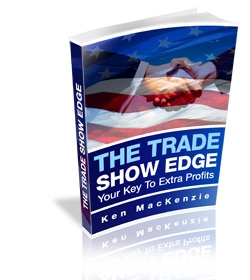 And there's more –  A lot MORE!  These vitally important matters are also covered….
The most critical resource on the trade show floor – The Trade Show Planning Guide – (see full details on page 112)
How to train and schedule your exhibit staff (This very important aspect is covered starting on page 117)
How to ask "Open Ended" questions (see page 129)
How to evaluate your competitors at a trade show (discussed on page 133)
Trade show hospitality events should be relationship-focussed (see page 137)
Don't forget sponsorship and speaking opportunities (see page 143)
Post-show follow-up and evaluation (Two of the most overlooked aspects of trade show participation are discussed on page 145)
Trade Show Evaluation Form (available on page 153)
What to do in an emergency (see page 160)
Resource Directory and Industry Terms (Check out the Appendices)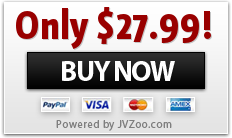 Now a little about the author….
Ken MacKenzie has had over 35 years of marketing and public relations experience. As Marketing Manager in a U.S. Trade Center, which is a United States Government facility, sponsored by the United States Department of Commerce, he served as Principal Advisor to the U.S. Trade Center Director on major U.S trade event planning and promotion. In this position he was totally responsible for the organization, advertising, promotion and implementation of numerous U.S. Government sponsored trade shows and other events covering many different industry groups.
As a Senior Consultant with International Public Relations for a number of years, as well as the owner of Ken MacKenzie Communications, he managed many various major projects and accounts.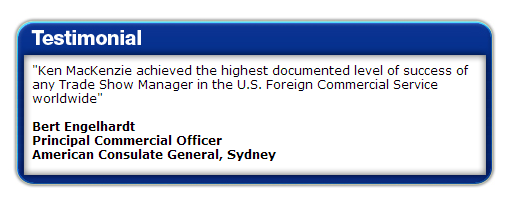 "The Trade Show Edge" has over 160 pages to help your business obtain the best ROI from your trade show marketing.
"Instantly" download Trade Show Marketing Strategies, Tips and Ideas !
PLUS – look for the great FREE BONUS book on sales techniques below !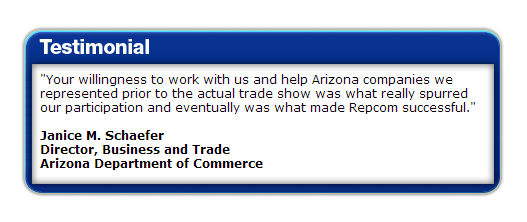 From the booth planning stages, to exhibitor etiquette, to pre-show, at-show and post-show follow- up, The Trade Show Edge will show you how to make your trade show exhibit successful and avoid making these trade show marketing pitfalls.
"The Trade Show Edge" gives you instant access to vital information which will enable your pre trade show marketing plan to gain effectiveness and impact!
Every area of trade show management is covered in this concise, easy-to-read book.
No matter how large or small your program is, you will find solutions to your trade show challenges.
There is no doubt that trade shows are an extremely powerful sales and marketing tool.
However, taking part in a trade show without having a clear view of……
Why you are there and
How to get your message into the hands and minds of the people you want to reach most i.e. your buyers
….is almost a certain recipe for disaster!
Many exhibitors at the average trade show continue to make mistakes in their exhibits !

If you would you like to..
Gain a competitive edge with your pre trade show marketing plan
Drive your sales further
Achieve a greater return on your trade show investment
Record a much higher trade show success rate
Attract and keep loyal customers
And, obtain extra profits


Then the "Trade Show Edge" is for you.
Order now and get this very special FREE Bonus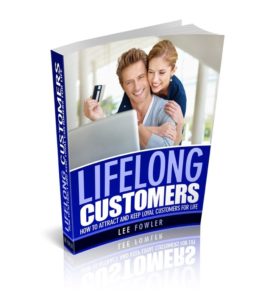 "Lifelong Customers"
How to attract and keep loyal customers for life!
by Lee Fowler.
Lee Fowler has been coaching and training in sales and service skills, presentations, negotiating and creative thinking since 1982. He has worked on developing sales training projects for some major companies including: Castrol, Apple Computer, Radisson Hotels, Colgate-Palmolive, Volvo, Legal & General, Schwarzkopf Haircare and a host of other super successful companies -and- watched them get incredible results!
This book will teach you, step-by-step, the skills and techniques developed for those companies and how to apply them in your business so you can achieve the same incredible results.
The book will clearly explain how to….
Greet your customers so that they are totally at ease with you immediately
Go beyond customer satisfaction and achieve customer loyalty
How to find out, in just a few minutes, what will make your prospects buy
How to instil confidence in your ability to deliver truly great service
Plus any holes in your business that might cause a customer to leave you – before it happens
Customers will return to do business with you again and again, year after year, despite your competitors' best efforts to lure them way from you if you apply the principles explained in this book.
Without a doubt, your sales will definitely increase!
.

An investment in "The Trade Show Edge" PLUS "Lifelong Customers" will assist you in "accelerating the sales process"
You'll record a much higher success rate!
Increased marketing skills = increased sales = increased profits
.
We are so confident The Trade Show Edge will exceed your expectations that we are offering a
NO QUESTIONS ASKED 30-DAY MONEY BACK GUARANTEE!
That's right! If you are not satisfied for ANY reason, we will GLADLY refund your entire purchase price! There is NO RISK involved with our product!
.
To obtain your copy, please click the "Buy Now" button below for an instant download of the ebooks.
Once your credit card is approved, you will be taken to a special download page where you will immediately download these two ebooks directly to your computer
Purchase Online With Credit Card or Paypal By Secure Server.
Yes ! I want The Trade Show Edge NOW !
The regular price is $47.00
However, you get "The 'Trade Show Edge' TODAY, PLUS "Lifelong Customers" for only $27.99 as a special introductory offer !
That's a huge discount off the normal price plus you get the bonus!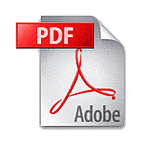 You will be instantly downloading these books in PDF format – And you have 30 days to evaluate them.
No physical products will be shipped.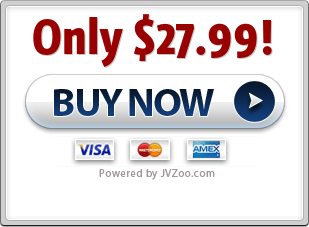 Order with confidence on 100% secure servers.
Secured payment can be made through Credit cards and Paypal
P.S. Don't forget, you'll get "The Trade Show Edge" today PLUS "Lifelong Customers" for the low price of just $27.99 – but ONLY if you act now !
P.P.S. You can't lose with the guarantee ! There's no risk on your part.
This ebook is guaranteed with a 30 day, 100% money back guarantee
© Copyright 2018 – Trade Show Marketing Plan – All Rights Reserved